ADHETEC is partnering Air France for Paris'bid host the 2024 Olympics
Air France and ADHETEC have come together once again for Paris' bid to host the 2024 Olympic Games.
ADHETEC has worked with Air France on the manufacturing and fitting of external decor films and is decorating 11 Air France planes using its exclusive ADHECAL technology.
To carry out the project, ADHETEC's teams of experts traveled to three fitting workshops (Paris CDG, Toulouse and Casablanca) in a short space of time.
Now featuring the "Paris 2024" logo, the Air France fleet is flying the flag for Paris and its bid to host the Olympic games in 2024. Eleven aircraft will be decked out in the colors of the candidate city until 13 September 2017, when the International Olympic Committee (IOC) will choose the host city for the 2024 Olympic and Paralympic Games.
The decorated aircraft will perform close to 10,000 flights all around the world:
A long-haul fleet with an Airbus A380 and two Boeing 777s to Asia, America and Africa.
A medium-haul fleet with 7 Airbus A320s to Europe, North Africa and the Middle East.
The French president's plane has also been decorated by ADHETEC.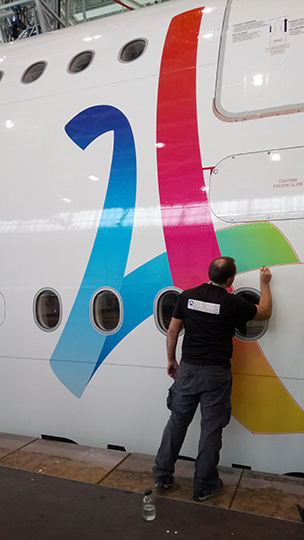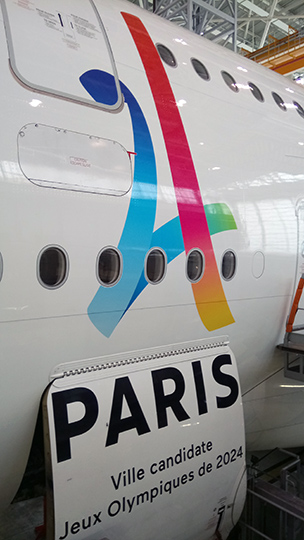 ADHETEC's teams during the fitting of high-tech ADHECAL adhesives. These decals guarantee reduced downtime, optimized costs and limitless design possibilities.
(source: Air France press release on 28/06/16)