Since 1980, Adhetec has acquired renowed skills in the technical adhesive solutions area, offering adapted solutions to its customers. unmissable global actor of adhesive films, it supplies high quality products within a very short period of time.
REDUCE COSTS OF OWNERSHIP AND CYCLE TIME WITH ADHETEC
A UNIQUE EXPERTISE AND KNOW-HOW
To make our customers earn time and money, the ADHETEC company manufactures innovative products adapted to its customers' needs, through R&D and ENGENEERING. It develops interior and exterior self adhesive decorative foils, protective films and masking foils. Thanks to an active listening of its customers, the understanding of their industrial processes and concerns, ADHETEC company is considered as an expert in the industrial markets in which it evolves. Once the solution is implemented, it ensures security of delivery and quality.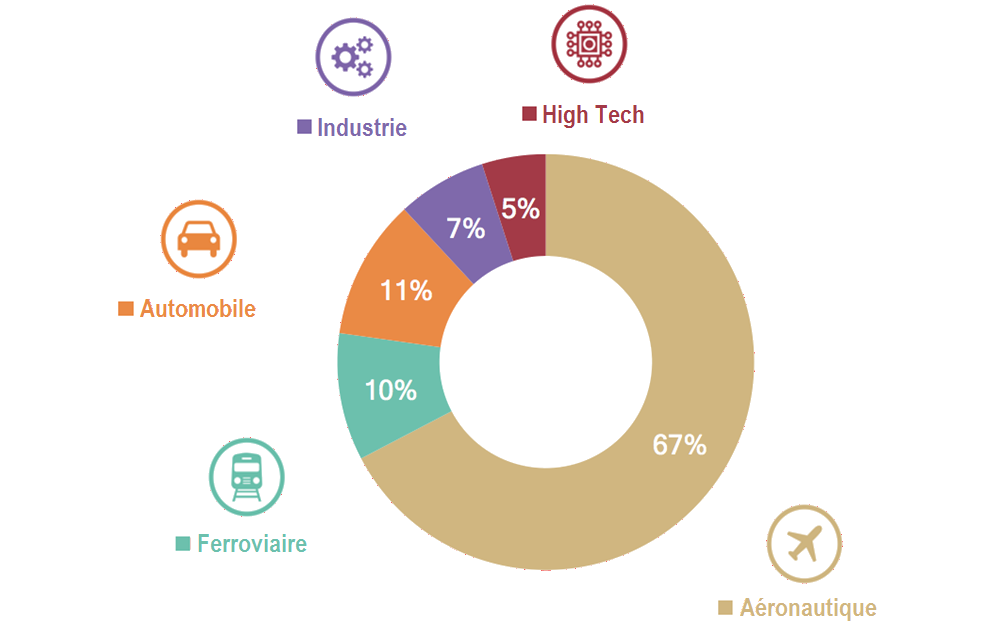 EMPLOYES
160 employees whose 10 dedicated to innovation and 15 to methods in order to offer efficient and innovative products as well as a salesforce of 11 multilingual sales representatives spread around the world in your timezone, to answer efficiently to all your needs.
CONCEPTION SERVICES
Print, cutting, gluing, adhesiving, stock management, prototyping, lab tests.
ADHETEC CERTIFICATIONS
ADHETEC obtained:
POA certification for decorative adhesive films under EASA (Part 21G);
ISO 9001:2015 (ADHETEC France, ADHETEC INC., ADHETEC Canada);
EN 9100:2018 (ADHETEC France, ADHETEC INC.);
AS 9100:2016 (ADHETEC Canada);
ISO 14001:2015 (ADHETEC France, ADHETEC Canada);
Ecovadis grade Silver
Homologation CP1 (SNCF) ;
Homologation spécifique client (High Tech, armement) ;
CAGE Code F7837.

THE FINANCIAL STRENGHT OF A MAJOR GROUP, THE REACTIVITY OF A MEDIUM SIZE BUSINESS
4 PRODUCTION SITES: CLOSE TO OUR CUSTOMERS, ATTENTIVE TO THEIR NEEDS
ADHETEC Tarbes
Headquarter of the company, this site manufactures adhesive solutions for aerospace, railway, automotive, industry and high-tech.
ADHETEC Colomiers
Mostly dedicated to aerospace, this production site has for main client Airbus and its partners.
ADHETEC Seattle
This production site has for main client Boeing and other aerospace actors. It is dedicated to manufacturing and supplying masking and protection solutions to serve our American customers under a very short period of time.
ADHETEC Canada
In a standardization and improvement approach of masking methods, the company manufactures a comprehensive range of masking products tailor-made. Having all the required for aerospace industry, ADHETEC is certified AS9100. In a Lean Manufacturing approach, the products it offers guarantee precision and time saving.
ADHETEC China
This production site is dedicated to get closer to our asian customers while providing the same products excellence.