TECHNICAL ADHESIVES: A SPECIFIC EXPERTISE
ADHETEC is expert in adhesives solutions for aerospace and has developed its know-how in two distinct fields:
Aircraft customization, through the development of certificated adhesive for mandatory markings and placards, livery and cabin decoration as well as stencils for painting. ADHETEC's solutions ADHEMARK® 13880® / 13911 / 13912, ADHECAL® 13880® and ADHESKIN® 13915 / 13930 are the outcome of years of research and development. They insure security and quality thanks to their excellent durability and total compliance with existing aerospace standards. These high performance adhesives are qualified by every aircraft manufacturer who has chosen them for their new aircraft programs.
Technical adhesive solutions for aerospace, also called "consumables" at which ADHETEC has exceled for 40 years to provide parts protection and safety of operations, as well as masking solutions.
ADHETEC's know-how based on years of experience and understandings of customers' requirements are adjusted to every production process and without glue residues once the operation is over.
Surface protection: cabin furniture protection, floor covering or parts protections during maintenance and storage (interior/exterior)
Masking: self-adhesive rolls, stencils and other specific forms, window covering, dual-sized, high-resistance adhesive films for many operations such as sanding, assembling, painting, surface protection, chemical products treatment, anti-corrosive protection…
ADHETEC has particularly focused on cabin elements and fragile exterior parts protection and has helped many OEMs, sub-tiers suppliers and MRO to reduce their non-conformities costs, touch-up/repair costs and to keep their cycle time under control while insuring the productivity of their assembly lines.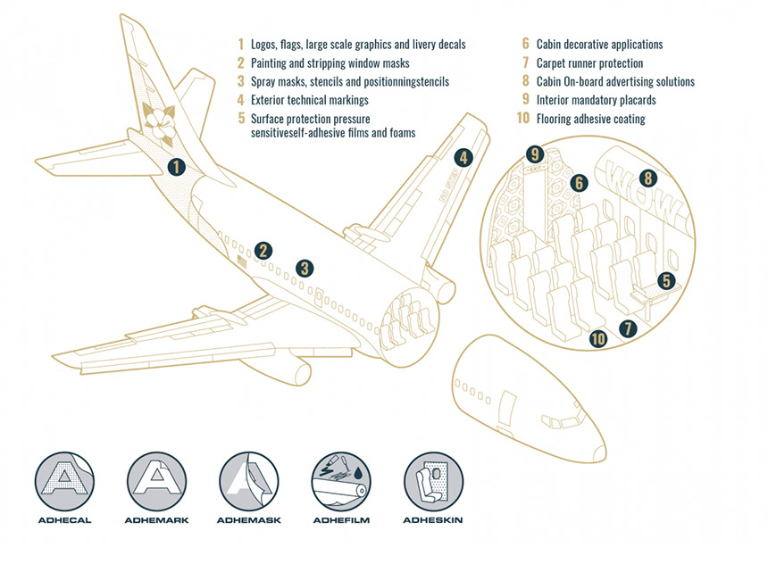 ADHETEC'S CUSTOMERS
ADHETEC works with every stakeholder of the aerospace industry:
OEMs,
Airlines,
Sub-tier suppliers,
MROs,
Lessors,
DOAs,
Distributors/brokers,
Aircraft storage facilities

Qatar Airways
Emirates
Etihad Airways
Singapore Airlines
Qantas
AirFrance
Frontier
Air caraïbes
Nile Air
Malaysia Airlines
Iberia
Azul
​Air Swift
Corsair
Ethiopian
Cathay Pacif
Thomas Cook
Lufthansa
Hongkong Airlines
Air Dolomiti
Air Austral
Brussels Airlines
Tame
Tiger Air
Fly Egypt